2010 TUSCANY ITALY WORKSHOP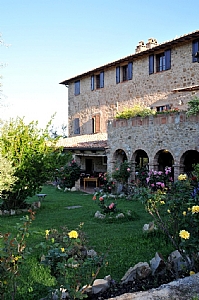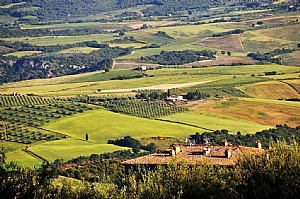 The two-week June 2010 Plein Air workshop took place in the heart of Italy's Tuscany area at an old olive oil plantation owned and operated by Enrico. Enrico, who had previously owned and operated 35 restaurants in Rome and was rated as one of the top chefs in Italy, called it quits, sold everything and moved his family to a hilltop plantation located near the mid-evil hilltop town of Seggiano and opened a retreat spa. Here the adventure begins for nine USA artists and instructors Joe Mac Kechnie, Donna Trent and organizer Bill Sperling. The following words, written by Jeff Waters-workshop artist, express his impressions of the magic of Italy and the beauty of Tuscany:
God loves Italy and proved it by dropping Tuscany right in the middle. If there is a more beautiful place on earth, I have yet to find it. Tuscany is a great, rolling, patchwork quilt of green and gold that yields only to the occasional, hilltop castle and surrounding medieval village. Bill Sperling (williamsperlingg@aol.com) of Magic Palette - Magic Skillet Workshops organized a magnificent two-week trip. No one works harder than Bill to assure his guests a splendid experience. He thrives on frustration and little sleep, often driving all night to retrieve one of his charges from a distant airport. Bill is also a fine watercolorist. His friend, Enrico, hosted us at Le Casacce, an ancient olive plantation with stately manner. He is a gourmet chef who overfed us with wonderful dishes and "my olive oil" which he produces on the property. It could not have been more perfect. We all overate. I can still hear Kim, wonderful oil painter, yoga instructor and conscience of the group, admonishing me. "Half portion!"
Mary Jane Dunlap, Elizabeth Donohue, Shirley Fjoslien, Mary Blanchard, Dori Westphal, Chuck Kovacic, Kim Docter, Dee Gillam-Barrett and Jeff Waters studied under the loving guidance of master instructor, Joe Mac Kechnie. Donna Trent, who teaches a very effective but highly complicated system of oil painting, was in residence with a few of her students and we all traveled together. Donna is a joy and her husband John drove the other van and assisted in any way possible. Each day, we painted in a different, hilltop village or major city, taking in the sights of Seggiano, Florence, and Siena. My favorite memory is sitting in a small restaurant in Siena, having been driven inside by a sudden and violent storm. Lightning flashed directly overhead and thunder rocked the building. Water ran several inches deep in the street. As we ate lunch, Joe taught his system of contour drawing, accompanied by good wine and sinful desserts. In lieu of a tip, the waiter requested my drawings and insisted that I sign them. The poor man has no taste. It doesn't get any better than that. Or perhaps, it does. I sat in brilliant sunshine, on a garden wall outside the main door of a magnificent abbey built in 861 and painted their beautiful garden while the monks filled the air with Gregorian chant. Would I go back? When's the next plane?
Another talented workshop artist, Shirley Fjoslien, wrote the following poetry to capture her experiences while in Tuscany; the photography is provided by Joe Mac Kechnie: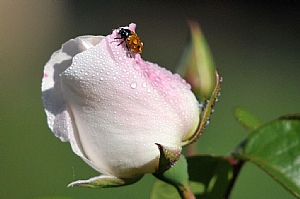 Le Casacce, The Rose - May 30, 2010
The rose, so carefully tended, planted lovingly by hand,
Beloved for its beauty and treasured by each man,
In colors bright and glorious—pink, yellow, white and red,
Flora's most important creature, or so it has been said.
But the tiny little clover, growing quietly by its side,
It takes no man to plant it, no hands its seeds to guide.
Which one is most valued, most loved by all around?
These two, so closely growing, they're neighbors in the ground.
Or is one really greater? Should we not compare?
Or accept them just as they are and give each one its share?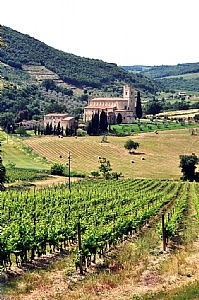 Abbey of Sant' Antimo - May 31, 2010
Ancient music emanating from
Ancient bricks;
Transports us back to
Another time—
Another world—
Another life—
The sounds of modern life disappears
And we become part of the ancients.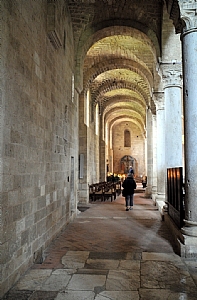 Abbey of Sant' Antimo - May 31, 2010
Oh my! Oh dear!
I don't believe it!
One study so far back in my life was German.
I understood it.
I read it.
I spoke it.
Eons have gone by since that time in my life.
The group before me was German tourists.
The guide with them carefully described the Abbey.
I understood six words!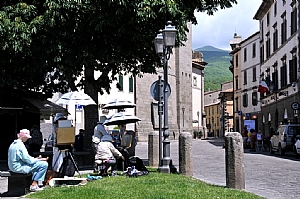 Castel del Piano - June 1, 2010
When I was young, there was one rule—
Color inside the lines!
Very, very important—
Color inside the lines!
Now that I am old, the rules have changed—
Don't color inside the lines!
There are no lines!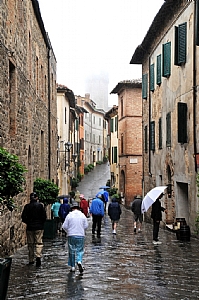 Montalcino - June 2, 2010
We're going to Montalcino this morning,
A little rain won't hurt us.
We got to Montalcino
And it was raining yet.
We donned raincoats and umbrellas
And wandered down the street,
And tried to hop the puddles,
To keep feet from getting wet.
"Maybe another day," Joe said,
And Donna did agree.
We did not paint in Montalcino,
But gathered to drink our cappuccino
And walked a little farther on
To drink a glass of vino.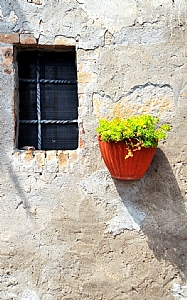 Le Casacce - June 2, 2010
I didn't go with the big group,
I stayed at Le Casacce alone.
I got out my painting equipment
And started to work on my own.
Suddenly I heard Joe's voice—
I wasn't really alone—
"Loosen up, loosen up,
Paint fast, paint fast,
Not so tight, not so tight,
Don't worry, it's only paper!"
I heard it again and again.
I tried, I really did—
"Did I take at least a baby step?"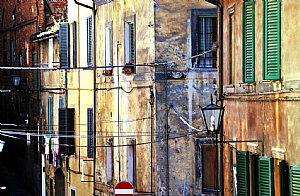 Siena - June 3,2010
Far off Siena—
--narrow streets
--narrower alleys
--the Duomo
Up and down, up and down
--wide opening
--the Piazza del Campo
--rain!
Under a red awning we sat,
Seven artists, pencils in hand,
Capturing impressions of the square.
--Adults, children, one alone and groups
--Many languages
--Merchants selling wares
--Cameras clicking
--Pigeons galore.
Rain abates—we venture out,
Up and down, up and down,
Store windows enticing,
More rain, more rain.
Under another red awning
Rumbling thunder becomes nearby loud cracks,
Far away lightning becomes too close,
Gentle breezes become howling winds.
We take refuge from the storm,
Warming food, glasses of wine.
Wine bottles, wine glasses, plates
Become models for our pencils
Rain dries,
Thunder and lightning move on to someone else's sky.
Calm—peace—home.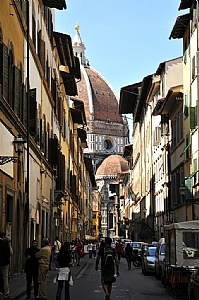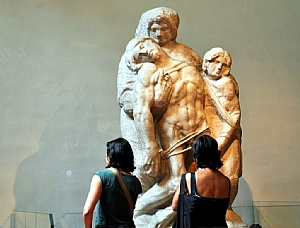 Florence- June 4, 2010
Driving, driving, driving,
We made our way to Florence.
People, people, people
Everywhere.
Find the bronze doors at the Duomo
People, people, people.
Walking, walking, walking.
Michelangelo's David—
There in front of us.
Walking, walking, walking.
Find the Arno—the marvel of the Ponte Vecchio.
Walking, walking, walking.
The Uffizi—Botticelli
Raphael and hundreds more
Names that were familiar
Many I'd not heard before.
Walking, walking, walking
From the bottom to the top
Caravaggio—a special treat—
Paintings, paintings, paintings—
Is it ever going to stop?
My mind's on overload—
So are my eyes.
We have to leave—it's time.
Walking, walking, walking,
Our trek to find the cars,
Our Mary took a spill—
We all were most concerned—
After all, she's one of ours.
But she's unbelievably tough,
She rallied before our eyes,
And we continued on our trip.
Driving, driving, driving
Le Casacce looms in sight—
Later supper—farewell, Chuck—
And so to bed—Good Night!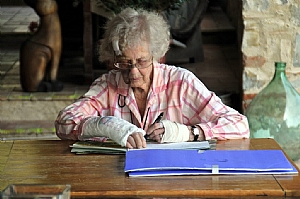 Le Casacce - June 5, 2010
Peaceful, calm, serene,
Late sleepers, late breakfast.
Drawing, painting, writing, resting,
Peaceful, calm, serene.
Lunch together, picnic style,
Shapes, value scale, color, shadows.
Bill takes Mary to the doctor—
Wrist is broken, full arm cast,
But she is strong and tough.
Now everyone, be careful
Of spills, we've had enough.
A pizza party by Enrico
Is really quite a sight.
Varieties that just keep coming
Throughout the early night.
Prosciutto, sausage, pepperoni,
Peppers, tomatoes, cheese,
Chicken salad, brochette,
Anything you please.
And if this were not enough,
A dessert did soon appear,
Cream and pastry, delicate,
And it was very clear
That most of us kept enough room
For it soon disappeared.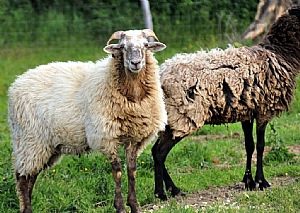 Le Casacce - June 6, 2010
Sunday—a day of rest,
Lingering over coffee.
No hurry!
No hurry!
Artists spread all over the grounds.
Painting, drawing, thinking,
Contemplating their work.
Comparing,
Trying new things,
No hurry!
No hurry!
Sunday—a day of rest.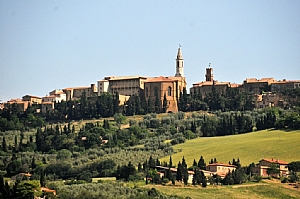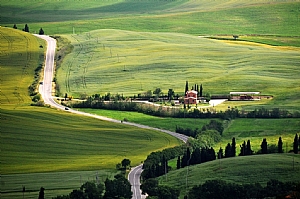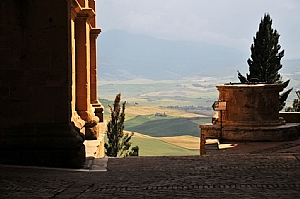 Pienza - June 7, 2010
Pienza—hillside town
--distant mountains
--rolling fields
--large piazza
--small plaza
--churches, towers
--all around
--umbrellas, flowers
--then homeward bound.
Quiet, rest for a little time
Before our nightly meeting.
Look at paintings everyone
Paint some more-our time is fleeting.
Another of Enrico's calorie filled meals,
Pleasantly or over full is how everyone feels.
But Kim has taken over
And gives instructions to the guys.
"Eat the fruit, half of this,
none of that," she soon replies.
It's good for them, they all agree,
Svelte and gorgeous they will be,
Check back in three weeks, and then we'll see.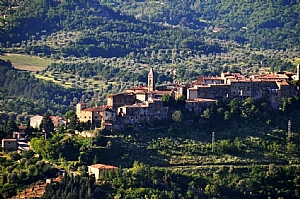 Seggiano - June 8, 2010
The village of Seggiano—in a park above the town,
The Duomo, olive trees, colorful buildings all around,
Balconies with flowers, red tile roofs when looking down.
Easels come out and foldable chairs,
Oils, water colors, and pastel,
Brushes, water, and various palettes
Paper and canvas as well.
We painted all day, with a few rides to town,
For it was too steep to walk,
The road went up, up, and then down.
Enrico describes all the food that we get
From the first course to the last,
Rice, mushrooms, meat tomatoes,
The array is very vast.
It doesn't matter what we have
"My olive oil" is part—
Pasta, potatoes, and roasted meat,
With "my olive oil" it always starts.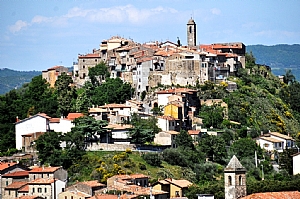 Monte Giovi - June 9, 2010
Monte Giovi is the plan for today,
A couple of hours is all that we'll stay.
See the unbelievable vistas and views
All around, there's plenty to choose.
Back to Le Casacce for a picnic lunch together,
We welcome a new member of our cast,
Joe's wife, Diane, has flown in to join us,
Now maybe Joe will behave, at last!
Color is a funny thing—you mix them for a brand new hue,
One color for foreground, another for back,
Donna told us what to do.
And the names they give to colors, too—
Quinacridone yellow and alizarin blue,
Mulberry, peacock and chartreuse,
Complicate the work and use.
Dinner was our usual feast, and now we have a piano man.
We sit around and sing along remembering the words we can.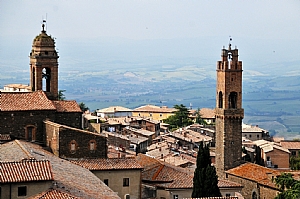 Montalcino - June 10, 2010
We tried Montalcino again, last week we got rained out,
Not so today, it's ninety-four; we scattered all about.
Every town has a bell tower but this one is more square.
A challenge to paint, some say, but they tried it—they did dare.
A fortress on the hilltop—another challenge to us all,
Its many sides and shadows and its cavernous inner hall.
Lunch together in a small place in the plaza,
Salads galore and lettuce and tomato,
Tuna, prosciutto, and melon.
Don't dawdle long—it's back to work we go.
Joe told us we must do a left-handed trial
And see just how well we fare.
Almost impossible, at least for me.
Mary, you're a wonder-extraordinaire!!
Another night of solid sleep
One more day our magic to release,
Our time is getting shorter,
One more day to create a masterpiece.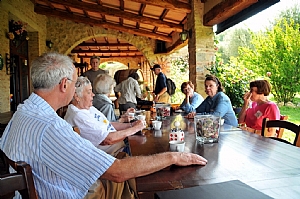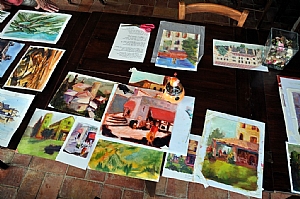 Final Day - June 11, 2010
Nine artists arrive in Le Casacce
Hopefully expectant of the days that lie ahead,
On winding roads, through small quaint towns
And enjoying the tranquil life we led.
Thank you, Bill, Donna, Joe for your work and expertise.
Without you, it would just not be right.
You've taught us much, seen to our needs—
We've enjoyed, learned, gone to brand new heights.
We have had some new experiences,
We put more depth into our art.
Though Van Gogh, Matisse and Wyeth we are not,
We know it's truly a wonderful start.
We've had great meals—more than we need,
For Enrico is a chef beyond compare—
We would like to steal the recipes
To impress our friends out there.
So we depart to our own homes
To the more normal life we spend,
Savoring the days we spent together
Coming as mere strangers, returning as new friends.
Thank you for the poetry Shirley! Well, that's what you missed by not going to Tuscany with us… maybe next time?
Joe Mac Kechnie, Artist and Art Instructor
Comment on or Share this Article →